0
products
Your shopping cart is empty!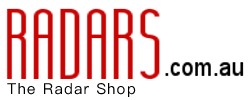 Whistler Pro 78XRi radar detectors: Here you will find information, pictures, videos and reviews on the All New Whistler Pro 78XRi radar detector. The Whistler Pro 78XRi radar detector is one of the latest and best radar detector from Whistler USA. The Whistler Pro 78XRi is designed to detect all the latest radar and laser threats used throughout Western Australia including the latest Poliscan laser cameras. The Whistler Pro 78XRi has front and rear laser sensors and also features the ability to isolate specific laser pulse rates to eliminate any laser false alerts through its selectable menu system. The Whistler Pro 78XRi features an excellent ergonomic and user-friendly design that provides a new level of operating convenience. The Whistler Pro 78XRi is an excellent high performance unit with a 3 year standard warranty, three times longer than most other brands at no extra cost! The Whistler Pro 78XRi features new Adjustable Laser Segments and identification of all laser camera and gun types thus shifting laser detection technology to a new level.
Latest high performance design with KA-MAX, KA Signature ID and Laser Signature ID...New 44mm (1.45) OLED display provides better contrast and brightness; alerts detected include signal strength, and indicates engaged modes of operation. Radars.com.au is the exclusive Australian Master distributor for Whistler products. Buy from one of our approved resellers or directly from us to gain our full local warranty. Most Whistler products have an exceptional 3 year warranty which is only available through approved distributors. Whistler Trade Mark is used under approved exclusive license from the trade mark owner.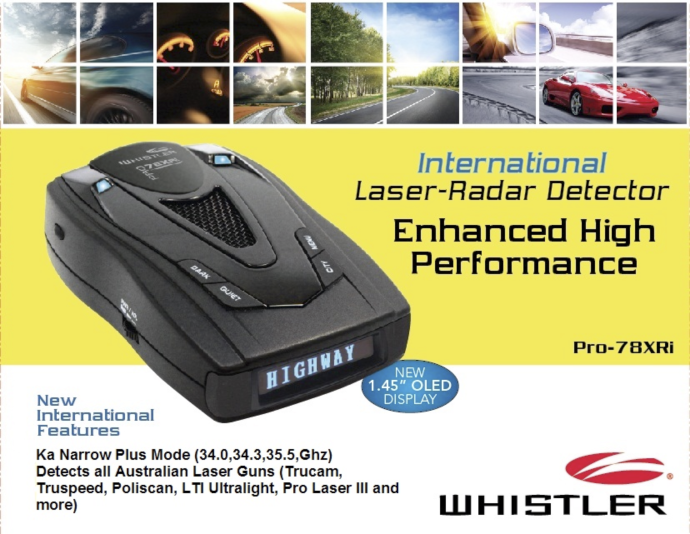 WHISTLER PRO 78XRi RADAR FEATURES

ADJUSTABLE LASER RECEIVER
Enhanced High Performance!
Ka Max Mode -

Improved Ka Band Sensitivity

Exclusive Radar Signature ID

-displays known Ka gun frequencies

Exclusive Laser Signature ID

- displays Pulses Per Second (PPS) of the received laser signal

Three (3) Filter Modes

Provides extra filtering

Auto Dim Mode
Blue Text Display
INTELLICORDTM Ready -

Program which features INTELLICORD controls

Real VoiceTM Alerts

- selectable

Patented POP™ Mode Detection
Exclusive

Low Profile Alert Periscopes

Total Band™ Protection

- selectable


360° Maxx Radar Coverage
3 City Modes/Highway Mode
High Gain Lens
Stay Alert™
Dim Modes
Quiet/Auto Quiet Modes
Alert Priority
Setting Saver
Vehicle Battery Saver

- selectable


Safety Warning System - SWS

WHISTLER PRO 78XRi SPECIFICATIONS

Size = 125mm x 80mm x 36mm
Weight = 180g
Insert Color = Black
Power = 12 Volts
Warranty = 3 Years
Included Accessories:
- Cigarette Lighter Power Cord
- Direct Wire Kit
- Windshield bracket
- Non — Slip Dash Pad

Operating Frequencies:
• 10.500 - 10.550 GHz (X band)
• 24.050 - 24.250 GHz (K band)
• 33.400 - 36.000 GHz (Ka Superwideband)
• 34.0, 34.3 and 35.5 GHz (Ka Narrow Plus)
Laser Wavelength: 800-1000 Nanometres (nm)