Contact Australia's only radar detector superstore.
Thank you for visiting our web site. Should your enquiry be of general nature, perhaps your questions can answered below. Please read our Frequently Asked Questions prior to contacting us. We generally respond to emails very quickly, usually same business day. If you do not receive a reply please check your spam filter or bulk mail directory. Be mindful that Western Australia can be 2-3 hours behind the east coast, depend upon daylight saving, so please check time before calling.
Our Morley showroom & warehouse is open Monday - Friday 9:00am - 5:00pm,
WE CANNOT GIVE LEGAL ADVICE REGARDING SPEEDING FINES

Total Control Pty Ltd (T/As TCG Industrial)
Office and location of the Radar Detector Australia warehouse
Our office is located close to the major Morley Centro Galleria Shopping Mall.
We are situated in a major retail and light industrial precinct. We are in the block of warehouses on the corner of Barnett Court and Marchant Way and our business entrance faces Marchant Way. One of the images below shows our office entrance and three allocated customer car bays. Our office hours are from 9:00am - 5:00pm Monday to Friday.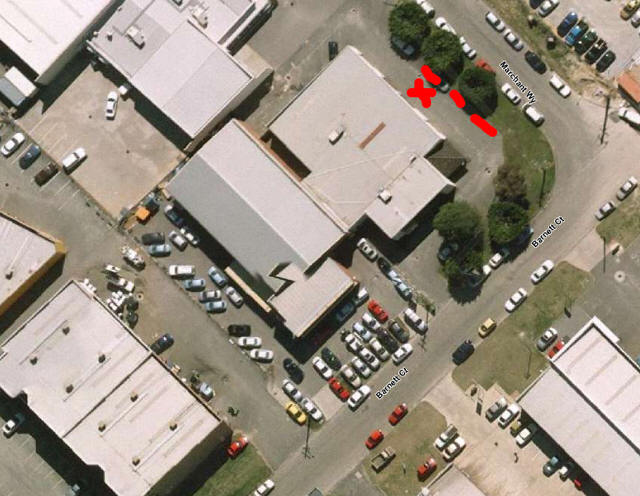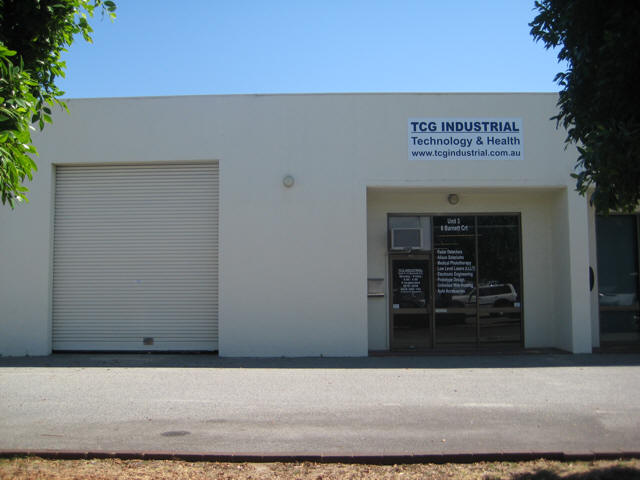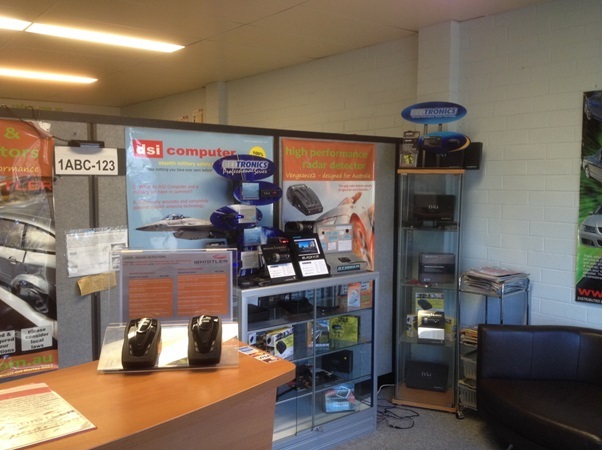 Frequently Asked Questions;
Q1. Tell me about test drives?
If you are not satisfied with your purchase, we can allow you to swap to another product within 7 days and simply pay the difference. The returned product must be in perfect, as new condition with all accessories and packaging to be eligible.

Q2. Tell me about your preferred payment methods? We accept all major Credit Cards including American Express, EFTPOS in store or via our online store as well as cash in store.

Q3. Is a completely undetectable Radar Detector available?
The best stealth installed radar detectors are our Stinger VIP Mileage Logging Computer or Stinger Card. Other installed stealth radar detectors such as the Escort Max 360CI are built on traditional stealth radar technology. A well designed modern detector is significantly less detectable. While most Radar Detectors can easily be detected by the police at 1km away, the emission from stealth radar detectors are so minimal as to be undetectable by radar detector detectors. We also highly recommend the Escort Redline EX International for portable undetectable applications.

Q4. What are the risks of using a Radar Detector?
The use of radar detectors is illegal in all states of Australia. Penalties vary widely between the states. In order to greatly reduce the risk of being fined $1200-$1900 plus demerit points loss in some states.

Q5. How do your Radar Detectors connect to my car?
Most Radar Detectors are supplied with a windscreen mounting bracket and a cigarette power cord to connect to your power source. Often a direct hardwiring kit is either available separately or included with some products to allow direct connection to your vehicle's electrical system without using the power socket. Although sun visor clips and other mounting brackets are available, we do not recommend using other forms of mounting as it can impact on the detection range of your radar detector. Mounting in any other fashion than recommended by the manufacturer is not advised.

Q6. What is the range of your detectors?
Detection range for laser based devices will depend on a range of factors such as angle of the laser camera, distance from the laser camera and distance from the handheld device(Laser gun). In respect of radar range, the type of device is the determining factor. An unmarked vehicle parked on the side using a radar or laser speed measurement camera will be using a low power radar or laser speed measurement system so the alert distance could be quite small such as a few hundred metres. A police patrol vehicle often uses a much higher powered radar system and you could well expect a detection range of several kilometres (providing the system in the police vehicle is turned on and active and the landscape is relatively unobstructed).

Q7. Tell me about warranty and after sales service and support?
We provide full warranty and support for every product we sell or are sold via our distribution network. Please note that many internet suppliers are either unapproved retailers or part time hobby operators. If you contact any of the major US manufacturers (Escort, Whistler, Cobra, Valentine etc.) most have statements on their web page that they do not sell to international retailers and also do not provide warranty, service or support on their products purchased from unapproved dealers or internet suppliers. If you buy an imported product from an unapproved retailer, you will not receive any manufacturer warranty service.

Q8. Where is the best place to mount my Radar Detector?
The best place to mount a Radar Detector for laser detection is in the centre of your windscreen, close to the bottom but above the windscreen wipers. It requires a clear line of sight to the very front of your car and must be able to see over any hump in your car's bonnet, plus clear line of sight out the rear window. When a laser speed camera targets your vehicle, it is generally aimed at the space to be able to read your number plate. The tinting high on your windscreen will also reduce its laser detection range. If you position your radar detector to the side of your windscreen, it will reduce its detection capability and overall range.

Q9. I have a second-hand radar detector, can you help me?
Yes, most of the time. If you have purchased from elsewhere or have a second hand device, repairs and maintenance may be carried out for a fee. We also provide assistance and warranty support to our direct and our reseller customers. Please note that we may not be able to supply spare parts for products not originally purchased from us or our resellers

Q10. How long have you been in the business?
We have been registered as business since 1992 and an Australian company since 1998. We will be here to offer genuine after sales support, service and warranty repair or replacement.
We have a 100% customer satisfaction policy and firmly support each and every product that we have supplied and will supply. A tax invoice is provided as proof of your warranty and purchase from us.


Q11. Do you give advice on speeding fines or road laws?
No, not only is it not our responsibility, we cannot give any form of legal advice. You should speak with your local Road Traffic Authority or your solicitor. As road laws are different in every state and every country, it is your responsibility to check your local regulations. Some "radar consultants" want to charge you thousands of dollars to act as "expert witnesses" when all this information is freely available online.
All information, specifications, pictures, products and prices subject to change without notice. Special offers, discounts or packages may also be discontinued at any time without notice. Errors and omissions excepted.
All Price Match Guarantees must include GST, stock must be available and be a legitimate Australian company.