ALL NEW WHISTLER TP-104 TYRE SCOUT TYRE PRESSURE MONITORING SYSTEM (TPMS)
WHISTLER TYRE SCOUT$249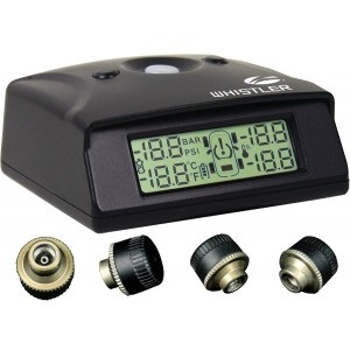 FEATURES:
Adjustable pressure and temperature warnings - an alert sounds and displays the faulty tyre
Prolong Tyre tread life
Reduced driving risks
Sensors transmit automatically when they detect vehicle motion - continually monitor tyre condition
Dual power options
Easy-to-read backlit LCD Monitor
High precision waterproof sensors
Improved fuel economy
No Programming of sensors
Selectable pressure units: Bar or P.S.I
Selectable temperature units: °F or °C
Benefits of a Tyre Pressure Monitoring System (TPMS)
PROLONG TYRE TREAD LIFE
The table below shows a simple relationship between tyre pressure and tyre tread life:
| | |
| --- | --- |
| TYRE PRESSURE | TYRE TREAD LIFE |
| 20% under-inflated | 30% less |
| 30% under-inflated | 45% less |
| 20% over-inflated | 10% less |
REDUCE DRIVING RISKS
Driving with under inflated tyres may cause:
Uneven tyre wear.
Tyre failure from overheated tyres
Poor response times when steering, braking and accelerating.
A tyre pressure monitoring system (TPMS) can alert drivers to abnormal tyre conditions before they become dangerous.
An unusual TPMS reading may also indicate other underlying technical issues such as poor wheel alignment & brake drag which increases wheel and tyre temperatures.
Today's tyre designs can make visual inspection of deflated tyres very difficult.
Often, a 30% under-inflated tyre may look much like a fully inflated one.
A TPMS will make sure tyre pressure is at its proper level.
A 10 PSI drop in tyre pressure can translate to a 3% decrease in fuel economy.
At today's fuel prices, this is may mean up to $0.05c/litre. (Based upon $1.50/litre)
Specifications:
Size: 6.5cm x 5.7x 2.7
Weight: Monitor 71g| Sensor 6g
Power 1: 12v
Power 2: Lithium-Ion Battery
Warranty: 12 months
Included Accessories
Non-slip dash mat
Double sided tape
Power cord
sensors
WHISTLER TYRE SCOUT$249