Stinger-VIP Radar Detectors
Ground-breaking accurate and incredibly easy to use, for the most relaxed DRIVING ever.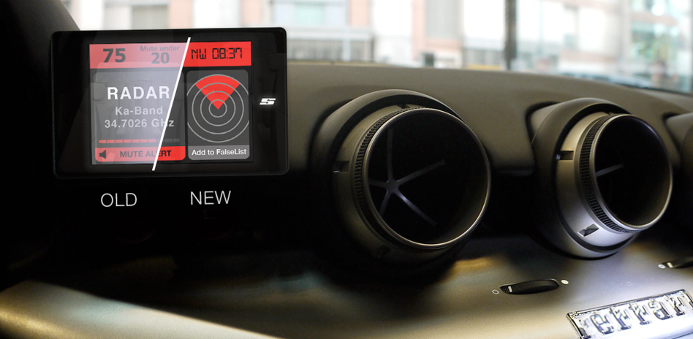 In GPS and millage logging modes, the Stinger V.I.P. is completely legal to use throughout Australia.
Simple pictograms and colour coding indicate the level of warning - green means 'relax', yellow 'suppressed alert' and red 'full alert'.
If you are looking for the best protection technology can offer and want it to be hassle free, the Stinger V.I.P. provides fully integrated protection against electronically enforced speed traps. Featuring the thinnest, most modern, and most effective antenna, the Stinger V.I.P.'s alerting is, quite simply, revolutionary - allowing you to focus fully on driving pleasure.
The Stinger VIP's graphic display and user interface has improved the visual usage experience of driving and now features a colour touch screen interface.
Essential aspects of the Stinger's operation include:
Stinger Laser

Stinger's laser sensors (left with the Laser Analyser Box) are the traditional round and square send and receive combination. Their dimensions reflect the discreet requirements of many drivers. These sensors pack a mighty punch yet are hard to spot their installation. The square sensor dimensions are a staggeringly small 16mm x16mm x 53mm and the rounds are just 25mm across and require a 21 mm bore 40mm deep.
| | |
| --- | --- |
| The new square HD sensors (right) feature a separate transmitter and separate receiver. A tiny new 2.6mm diameter laser fibre transmitter (below left) also adds to the stealth capability of all Stinger HD laser sensors. | |
| | |
| --- | --- |
| | NOTE: All laser sensors require a Laser Analyser Box to operate Stinger laser products may jam some LIDAR devices - with no jam codes displayed. Use of this device for laser jamming should be considered illegal. |
Multi Polarity HD Antenna

A multi polarity HD antenna further increase the legendary Stinger radar detection range by handling any radar polarity issues with ease. The all new Multi Polarity HD Antenna takes measurement certainty to the extreme, with an accuracy of 0.0001 GHz which means fewer false alerts.

Stinger is the pioneer in patch antenna technology. This modern antenna technology is often used in military applications for its critically high sensitivity and accuracy characteristics. We have mastered patch antenna technology for the same reasons and used it to build ultra-thin, state-of-the-art antennas for use in luxury cars.

There are several ways in which the Stinger user will experience the advantages of patch technology. First, its incredible sensitivity allows for comfortable warning distances even when facing modern radars. Second, its accuracy results in specific signal recognition thus helping to minimise radar false alerts.
Colour Touch Screen

A colour touch screen for ease of use and control of Stinger operations.
Stinger Pilot display

The Stinger Pilot display screen will provide information as to what features of the VIP have been enabled. At a single touch, the VIP system can be tailored to suit individual driving requirements.
Stinger Setup Screen

The Stinger Setup screen allows you controlled access to key areas of your VIP system. Side buttons surrounding this screen allow further refinements to volume, brightness and screen selection.
Stinger Safety Signals

The Stinger VIP incorporates an advanced safety system. At great distances, it picks up SafetySignals that can be transmitted indicating work zones, school zones and emergency vehicles. These signals will be transcoded in real-time and shown as the appropriate alert; This way your VIP can alert you up to a kilometre ahead for a special traffic situation. Depending on the application, there are several ways a SafetySignal can be generated. Cars equipped with Stinger Laser can even automatically and instantly alert other Stinger Laser equipped cars to dangerous situations such as heavily braking traffic.
Stinger Desktop

Welcome to Stinger Desktop. Stinger endeavours to develop fully integrated products and believe that this should not stop at your car. The Stinger Desktop ensures updating your Stinger is both simple and quick. It also takes care of moving data from your Stinger to your Mac or PC. If you want to, Stinger Desktop is also an easy tool for completely managing your Mileage Logging and Police Check data.
Stinger USB Key

Stinger VIP Desktop allows owners to re-load Stinger data and to access their driving records for Police Check, update spotlists and update software - all with a small USB key to get the latest software updates. It is MAC compatible too. That is all it takes to keep your Stinger up to date and optimised for the latest fixed speed trap locations.
Stinger Mileage Logging

Need to track your Mileage Logging for business, or, want the help of your Police Check files in disputing an unjust fine? Simply use the Stinger Desktop to manage and review all speed trap incidents and all your trip data. You can retroactively look up, store, sort, and print all the collected data.
Stinger VIP Plug-n-Play functions
Radar Alerting

Wherever Radar Alerting is allowed, your Stinger can locate police radars. Because of the hyper-intelligent and military grade Stinger MPHD antennas, your Stinger VIP offers unsurpassed sensitivity and accuracy.

Laser Alerting

Stinger Laser Alerting is extraordinarily sensitive. So much so, that your Stinger can pick up laser that was 'fired' at a car in front of you. In addition, Stinger Laser encompasses complex technologies as: it is able to recognize and indicate the type of police laser device.

Lasershield

The moment your vehicle is targeted by a laser threat, Stinger Lasershield instantly reacts and shields your vehicle and alerts you to the threat. Shield uptime depends on your choice of configuration (2-9 seconds - 5 seconds is recommended) and then automatically shuts down. Note that Stinger laser is so advanced that it will not shield below 30Kmh as it is aware that it is unnecessary.

SpotList Alerting

Utilising its GPS, your Stinger can alert you to fixed speed traps. It is also essential anywhere, in order to alert you for fixed speed trap locations that make use of 'induction loops' embedded in the road surface.

The Stinger SpotList is an up-to-date and extensive database of fixed speed trap locations. These can be uploaded to your Stinger by using the Stinger Desktop (Mac/PC) application.

Point to Point (Section) Alerting

In some states, road authorities use automated systems in order to calculate your average speed over a fixed distance, generally referred to as: 'Point to Point' or 'SPECS'.

When driving in a Point to Point zone, many drivers may have no idea of their average speed and continuously keep looking at their speedometer, or start driving dangerously slow out of fear of getting a speeding ticket. That is why Stinger has developed 'Section Alerting': not only will you be alerted when you are approaching and exiting a 'Point to Point' area, but your Stinger will actually escort you through it.

While in the Point to Point zone, your Stinger will continuously calculate your average 'Point to Point speed'. If at any time your average speed exceeds the set speed limit, your Stinger will alert you with audio and visual signals.

The graphical display of the Stinger VIP will depict a 'happy face' (good) or a 'sad face' (too fast) to instantly show you your status. Additionally, they show where you are in the Point to Point Zone and what the remaining distance is.

Police Check

Not all speed checks are performed correctly. Sometimes police radars operate outside the legal radar frequency band widths, or have been set up at a wrong angle versus the road. It may also happen that unclear photographs and/or inaccurate police work result in license plates being read incorrectly. So, what happens should you receive an unjust speeding ticket?

Generally, the registered owner will be deemed guilty, unless he or she can prove their innocence. Stinger Police Check helps you to meet this burden of proof. Your Stinger records where you have driven, active speed traps you have encountered and what your speed has been. In addition, your Stinger measures and records the exact frequency of every active radar, fixed camera and laser speed trap you have passed. Thanks to Stinger Police Check your Stinger may offer important assistance in appealing speeding tickets that are incorrect.

Safety Signals

Your Stinger is equipped to receive, at a large distance, Safety signals emitted by radar or laser transmitters that can be used by - for instance - schools, road workers, police and emergency services. Safety signals are decoded by your Stinger in real-time, providing you with clear audio and visual alerts.

Car-to-Car Safety Signals

Stinger's SafetySignals can even use laser to transmit 'car-to-car' alerts. In the event that a vehicle suddenly brakes in a traffic incident and is equipped with Stinger Laser, it will transmit an alert to other vehicles using Stinger Laser. Stinger Laser is able to identify and analyse laser and display the type of threat encountered.

Mileage Logging

If desired, your Stinger can do your mileage logging, making it simple to keep track of your business and private mileage. The data can then be downloaded via Stinger desktop.

Speed Sense

The Stinger VIP allows you to enter two speed values below which no alarm will sound.

One setting can be selected for motorways and another for non-motorway driving. The Stinger V.I.P. GPS module will determine which of the two values to apply. Truly relaxing driving.

Special Note: The Stinger VIP's GPS module also recognises its location and modifies its radar configuration known radar band segmentation in that particular location.
Comparison Chart
Features/Functions
VIP
Card
Advanced Spectrum Analyzer
to the radar receiver
MP HD
antenna
·
Laser Analyzing / Shielding
Optional
Optional
Australian SpotList for fixed cameras
·
·
PoliceCheck
·
·
Point to Point Warning and calculation
·
·
Mileage Logging
·
–
Safety signals
·
·
Warning functions at your fingertips
·
·
100% protected against
electronic detection
·
·
Display Graphics
Colour
–
Compact LED Display module
–
·
Speech output (switchable)
·
–
Acoustic signalling on warning tones
·
·
Optimum suppression of false alarms
·
·
Updateable via Internet downloads
·
·
Developed and produced in Europe
·
·
VIP Manual Downloads
stinger - V.I.P. – $$$-click