Stinger Card with advanced radar detection system
Stinger Card Radar Detection
The credit card sized Card uses an LED-display plus the Card's incredibly sleek design makes it the smartest looking speed trap protection device in the world.
Safety Signals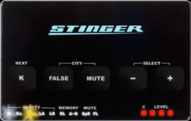 The Stinger Card is equipped to receive Safety Signals sent by transmitters that can

be used by schools, road workers, police and emergency services to advise road users of an impending road hazard. Transmitted Safety Signals are decoded by your Card in real-time, providing you with clear audio and visual alerts much ahead of time.
SPECS Alerting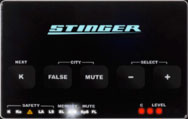 The police can measure your average speed over a fixed distance: generally referred to as 'SPECS' or Point to Point. Upon entering a SPECS zone, many drivers continuously keep looking at their speedometer, or drive dangerously slow out of fear of getting a speeding ticket. That is why Stinger has developed 'SPECS Alerting'. This means that you will be alerted when you are approaching a SPECS camera. If at any time during the SPECS measurement your average speed is above the set speed limit, your Stinger Card will alert you with an audio signal.
Laser Safety Signals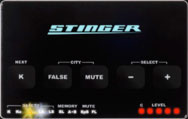 Laser Safety Signals can also transmit 'car-to-car' alerts. This enables a Stinger-Card user,

who has a Stinger installed, to alert other Stinger users by initiating or relaying Safety Signals. For instance, a Stinger user who hits the brakes, generates a Laser Safety Signal on the Card or Stinger DSI of Stinger users in his vicinity. Safe driving is a part of comfortable driving.
Laser Alerting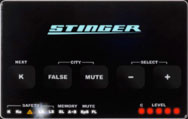 Stinger Card's Laser Alerting is extraordinarily sensitive. So much so, that your Stinger can pick up laser that was 'fired' at a car in front of you. Stinger laser products may jam some LIDAR devices( guns and cameras) - with no jam codes displayed. Use of this device for laser jamming should be considered illegal.
LaserShield®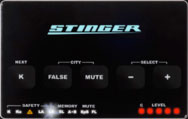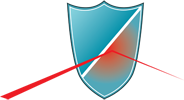 With its sensitive laser detection, Stinger Laser swiftly detects a police laser gun or Laser Speed camera and raises a Shield as protection against laser beams. After several seconds this protection automatically ceases the 'Shield-up' time expires. Whilst stationary and at low speeds, the LaserShield cannot be engaged.
SpotList Alerting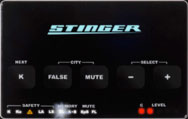 Utilising its GPS feature, your Stinger Card can alert you to important locations as fixed speed traps, red-light and red-light / speed cameras. Even in states where 'Radar Alerting' is not allowed, 'SpotList Alerting' can legally warn you for fixed speed traps.
Radar Alerting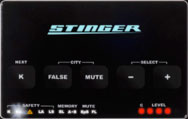 The Stinger Card can locate and alert you to police radars. Because of its highly advanced military technologies, the Stinger Card can catch radar at up to double the distance ordinary radar detectors can. The Stinger Card is the best alerter for speed traps in the world.
Stinger Card undetectable to "Radar Detector Detectors!"
Since the Stinger Card is not an ordinary Radar Detector, you will probably not be surprised that even the newest "Radar Detector Detectors" are not capable of detecting it.
From a legal point of view it might be irrelevant that the Card cannot be detected. The Stinger's stealth characteristics are, however, an important convenience for the Stinger user: he will not be unnecessarily bothered by the police, asking him whether he is using a radar detector and risking confiscation, heavy fines or both.
PoliceCheck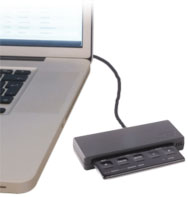 Not all speed checks get executed correctly. Sometimes police may operate outside the legal frequency band widths, or have been set up at a wrong angle vis-à-vis the road. Further, it happens that unclear photographs and/or inaccurate police work result in license plates being read incorrectly. So what if you get a speeding ticket? Generally, the license plate holder will be deemed guilty, unless he can prove not to have been responsible for the alleged speeding. PoliceCheck helps you to lift this burden of evidence. The Stinger Card records where you have driven, if you have encountered active speed traps, and what your speed has been. On top of that, the Stinger Card measures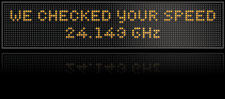 and records the exact radar frequency of every active radar speeds trap you have passed. This way the Stinger Card assists you to appeal against speeding tickets that are incorrect.
Spectrum Analyser

A multi polarity HD Spectrum Analyser further increase the legendary Stinger detection range on radar by handling all radar polarity issues with ease. The brand new Multi Polarity HD Antenna takes measurement certainty to the extreme, with an accuracy of 0.0001 GHz which means fewer false alerts.

Stinger is the pioneer in patch antenna technology. This modern antenna technology is often used in military applications for its critically high sensitivity and accuracy characteristics. We have mastered the patch antenna technology for the same reasons and use it to build ultra-thin, state-of-the-art antennas for in luxury cars.

There are several ways in which the Stinger user will experience the advantages of patch technology. First, its incredible sensitivity allows for comfortable warning distances even when facing modern radars. Second, its accuracy results in specific signal recognition thus helping to minimise false alerts.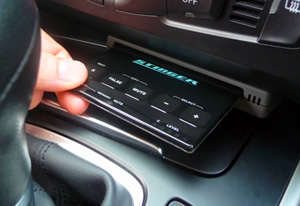 Comparison Chart
Features/Functions
VIP
Card
Advanced Spectrum Analyzer
to the radar receiver
MP HD
antenna
MP HD
antenna
Laser Analyzing / Shielding
Optional
Optional
Australian SpotList for fixed cameras
·
·
PoliceCheck
·
·
Point to Point Warning and calculation
·
·
Mileage Logging
·
–
Safety signals
·
·
Warning functions at your fingertips
·
·
100% protected against
electronic detection
·
·
Display Graphics
Colour
–
Compact LED Display module
–
·
Speech output (switchable)
·
–
Acoustic signalling on warning tones
·
·
Optimum suppression of false alarms
·
·
Updateable via Internet downloads
·
·
Developed and produced in Europe
·
·
Card Spotlists - Download
Stinger Card and DSI Computer are the only 100% undetectable and 100% passive radar detectors.