Buy Laser Interceptor in Australia
Laser Interceptor with 2 sensors - $895
Laser Interceptor with 3 sensors - $1195
Laser Interceptor with 4 sensors - $1495
Radars.com.au, as the official Australian Distributor, is proud to introduce this European designed and manufactured device which was independently rated the #1 Rated Laser Jammer in the World 2007 & 2008 by GOL (Guys of LIDAR)and Laserjammer.net in 2013!

Laser Interceptor products are manufactured in Europe and exported globally. In Australia, radars.com.au is the sole Australian Distributor for Laser Interceptor and has been since March 2011.
Laser Interceptor products may jam some LIDAR devices( guns and cameras) - with no jam codes displayed.
The use of laser jamming devices are illegal to use in all states including Western Australia. When sold in Western Australia, this device is configured as a laser detector only. In this configuration, device does not interfere with any speed detection equipment.
We stock the range of Laser Interceptor product and can customise it to your requirements. We can configure the settings best suited to your use and provide input into the best locations for the Laser Interceptor sensors Every Laser Interceptor system sold by us is supplied with all fitting components plus an installation guide and owner's manual for the D.I.Y'ers and professional installers.

Once your Laser Interceptor is installed, we invite you to come by and we can test, and demonstrate first hand, just how well your installation operates and what you can expect in a real life situation. As updates become available, we will publish updates for the Laser Interceptor on our website. We don't anticipate many changes but keep visiting our website periodically to check. We do stock spare parts for Laser Interceptor components and supply additional cables for extra-long fit outs, we can also provide custom visual alerts for motorcyclists.

Each Laser Interceptor sold by radars.com.au comes with a full 2 year warranty.

The Laser Interceptor is a Laser Parking Aid with optional parking override switch and also:
May jam LIDAR devices, guns and cameras - with no jam codes displayed. Use of this device should be considered illegal.
Can be configured as a dedicated parking aid only.
Is a Laser Parking Aid and is available with an optional parking override switch.
Is a 3rd Generation Laser Interceptor Utilizing a Powerful ARM 32 BIT RISC Microprocessor
Includes the latest updates and upgrades
The Laser Interceptor CPU BOX is equipped with 4 ports (for up to 4 outer sensors), built in speaker for voice alerts and audible warnings and serial RS232 port for communication with any PC running Windows. Optional external speaker is also available. (Std. on Quad systems)
User adjustable parking mode, jam enable and jam on and off times
Has a PC interface with an RS232 Port enabling users to set up various options including signal on and off times within the Laser Interceptor and also update the software when newer user software is available
Features user Modifiable Audio Files (pcm format) for custom Alerts or Languages
Due to availability of Distributor Firmware Upgrades as and when new LIDAR guns are deployed, Laser Interceptor will never become obsolete!
Has 100% Waterproof Sensors
Plays a welcome message or alert each time the unit powers up and completes its BIST (built in self-test)
Has an audible siren sound and voice alerts to warn the driver when the vehicle detects LIDAR sources
Built-in thermo regulation with self resetting bi-metal fuse
Features sensors made from black plasticized aluminium
Includes an optical lens on the front
Is resistant to mechanical damage
LASER INTERCEPTOR FACTORY SITE
Downloads for Laser Interceptor:
Laser Communicator
Laser Interceptor User Manual
CPU Firmware Update
L I Voice pack
L I Bluetooth App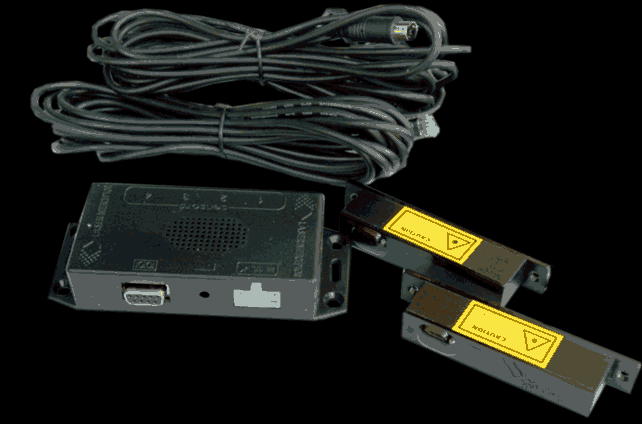 The Laser Interceptor Specifications;
CPU Rev. 3.5 02/2013
Version 8.18 09/2014
Sensor Version 9.0 (latest easy install DIN connector sensors)
Poliscan, LTI TruSpeed Trucam and EU VPR TruSpeed enabled
Laser Sensor Wavelength: 904nm
115w Laser Diode - to detect LTI TruSpeed and TruCam Lidar units
Laser Class: 1M
Power: 12-15V
CPU Box Current: 70mA (Max 700mA)
Outer Sensors: 30mA
Operating Temperature : -30 to +70 °C
CPU Box Dimensions: 125mm L x 55mm W x 25mm H
Sensor Dimensions: 100mm L x 25mm W x 15.5mm H
Power switch connector cables length: 1 metre
Sensor cable length: 6.0 metres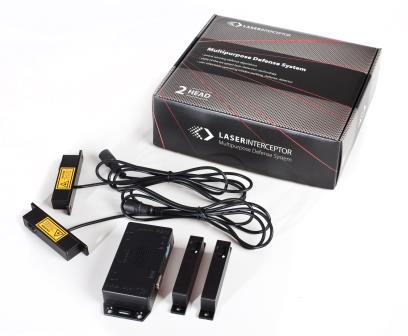 Things to note with Laser Interceptor
To avoid any problems with the police, we recommend that you keep in mind the following:
When you hear the Audible Alert:
- Verify your vehicles speed is less than the PSL (Posted Speed Limit) turn off the LASER INTERCEPTOR using the built-in switch.
Laser Interceptor products may jam some LIDAR devices( guns and cameras) - with no jam codes displayed. Use of this device for laser jamming should be considered illegal.
The angle covered by this device is limited, so be careful when coming out of curves, driving uphill and downhill.
When the sun is really low and you are driving towards it, the sensor reception can get degraded. In this case, you will hear the Sun Interference Alert (SIA), which will repeat every 3-5 minutes while the sensor is blinded. Again check the speed you are travelling as below the PSL, as this will ensure that you will not get a speeding ticket .
Radar detector and Laser defence demonstration videos
Radars.com.au contains a variety of radar test videos and other related film clips. All of our videos are now available on our You Tube Channel "radarsaustralia".
Laser Interceptor with 2 sensors - $895
Laser Interceptor with 3 sensors - $1195
Laser Interceptor with 4 sensors - $1495