ESCORT PASSPORT 9500IXi gps RADAR SAFETY DETECTOR
ESCORT PASSPORT 9500ixi GPS RADAR SAFETY DETECTOR –

$770
escort Passport 9500ixi laser interceptor bundle –

$1465 SAVE $200



ESCORT PASSPORT 9500iXi GPS RADAR SAFETY DETECTOR. Here you will find information and pictures on the Escort Passport 9500iXi radar detectors.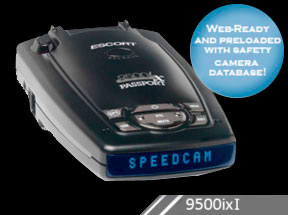 The Escort 9500ixI is programmed and pre-loaded for AU/NZ conditions using the AU/NZ GPS database of fixed and red light camera locations. The 9500ix I provides the latest in GPS powered filtering with Truelock™ - a radar frequency filtering system, permanently eliminating false alerts by location and frequency. The Escort 9500ixI provides total coverage with X, K, Superwide Ka, International Ku and Safety Warning System (SWS) radar capability, combined with front and rear laser detection. The Escort 9500ixI also introduces intuitive AutoSensitivity™ which increases the range as your speed increases.

ESCORT 9500ixI FEATURES

•All Radar and Laser Band Coverage
• Multi-Sensor Laser Protection
• New Truelock™ Technology
• Advanced AutoSensitivity™
•9 Selectable Features
• Easy-to-Use options and controls
•Digital Signal Processing (DSP) virtually eliminates false alerts
• Ultra-bright High Definition Display
• Brightness Control with Dark Mode
• One Year limited Warranty
Programmable Features:
• Power-On Indication
• SpeedAlert
• Power-On Sequence
• Signal Strength Meter
• AutoVolume (On/Off)
• AutoMute (On/Off)
• Units (English/Metric)
• Voice (On/Off)
• Radar/Laser Bands

Additional Patented Technology
• Auto Calibration Circuitry
Radar Receiver / Detector Type:
•Superheterodyne, Varactor-Tuned VCO
•Scanning Frequency Discriminator
•Digital Signal Processing (DSP)

Laser Detection:
• Quantum Limited Video Receiver
• Multiple Laser Sensor Diodes

GPS Receiver:
• SiRFstar III

Display Type:
• 280 LED Alphanumeric
• SpeedAlert
• Bar Graph
• ExpertMeter
• SpecDisplay
• 5 levels of brightness control

Power Requirement:
• 12VDC, Negative Ground
• Escort SmartCord Included

Sensitivity Control:
• Highway, Auto and City

Compact Size:
• 3.6 x 7.4 x 13.6cm

ESCORT 9500ixI SPECIFICATIONS
Operating Bands:
• X-band 10.525 GHz ± 25 MHz
• K-band 24.150 GHz ± 100 MHz
• Ka-band 34.700 GHz ± 1300 MHz
• Ku-band 13.400 GHz ± 25 MHz
• Laser 904nm, 33 MHz Bandwidth
Radar detector videos
Radars.com.au contains a variety of radar test videos and other related film clips. All of our videos are now available on the our You Tube Channel "radarsaustralia".
ESCORT PASSPORT 9500ixi GPS RADAR SAFETY DETECTOR –

$770
escort Passport 9500ixi laser interceptor bundle –

$1465 SAVE $200